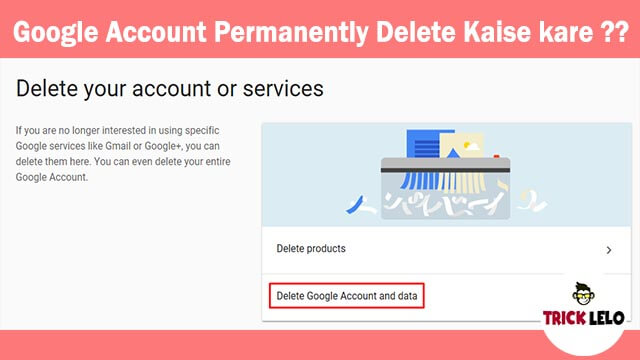 kya aap ko pata hai google account delete kaise kare? nahi pata ?? koi baat nahi me aap sabhi ko step by step batauga google account permanently delete kaise kare. dosto google account delete karne par google ke sare produate jese ki gmail,youtube,google photos,blogger,adsense etc.. ke sare data permanetly delete ho jayega.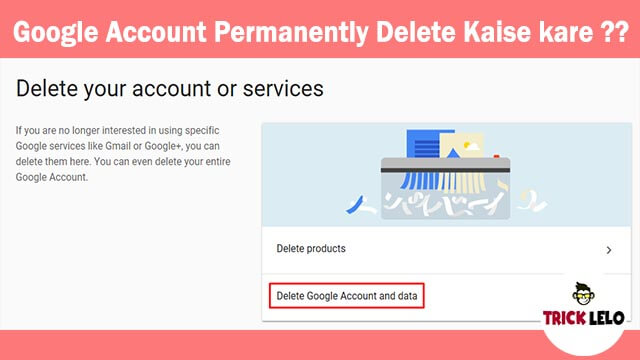 How To Delete Gmail Account Permanently 
 Step 1: Sab Se Google Account Login kare.
 Step 2: then go to Account preferences And click on Delete your account or services.
Click Here Go to Account preferences
Step 3: Delete your account or services me 2 Option  hoga.
1) Delete Products And
2) Delete Google Account And Data
 Delete Products ;-   
Delete Products ki madad Se youtube,Gmail,blogger,adsense,google+ etc. Google products ka data delete (clear) hota hain. Delete products se Google Gmail account permanently delete nahi ho sakta, Google products ka only content delete hota hain.
 Delete Google Account And Data ;- 
Google Gmail account permanently Delete ho jayega,kaise hoga uske liye niche pura step padh lijye.
Google Account Permanently Delete Kaise kare ??
 Step 4: Gmail account permanently delete karne ke liye first option Delete Google account and data Par click kar Na hain,
 Step 5: Uske baad Aap ko Google ke sabhi products Adsense,Blogger,Gmail,Google photos,Google+,YouTube
All this content will be deleted.Etc ke option show hoge or niche kuch aesha likha hua milega
Yes, I acknowledge that I am still responsible for any charges incurred due to any pending financial transaction and I understand that under certain circumstances my earnings won't be paid out.Yes, I want to permanently delete this Google account and all its data.
 Step 6: Dono option ke aage chota box show hoga usme √ click karna hain.
 Step 7: Then click Delete Account button
Finally, Your Google Account and all its Data have been Deleted.